WORTHINGTON – A cheerful yellow house overlooks the expanse of fields and apple trees south of Worthington. It's impossible to miss – not just because of the house – but because the turnoff from the gravel road is marked by a large white sign that reads 'Nystrom Orchard', with a quaintly painted apple core next to it. black lettering.
It's the home of Nobles County's 2022 Farm Family of the Year, Kia and Aaron Nystrom, and their three children, Kip, Cortland (like the apple), and Thea. The farm has been owned by the Nystrom family for four generations, raising everything from pigs to soybeans.
Since Kia and Aaron took over the farm in 2012, the tradition of mixed farming has continued, but with renewed efforts toward sustainability and making Nystrom Orchard a must-visit destination in southwestern Minnesota.
"Farming is the backbone of this community," Kia explained, as she walked the grounds between the house and the newly renovated shed, where tastings and small gatherings are held. "We want to show what farming can be and how you can use it to build a life for your family and teach people where their food comes from. It's our whole purpose of why we get up every day. Thus, we can teach our children to work and provide for the needs of our community.
With 700 acres of corn and soybeans and around 1,000 apple trees – not to mention the cattle that are raised on the property – the Nystrom Orchard has a bit of everything.
This year alone, they planted 150 new apple trees, in addition to those that were planted on the property generations ago. Although it will likely take at least six years before the new trees are ready to produce a crop of apples, these trees are at the heart of what Kia calls its "big plans" – and already an established part of what's on offer. at Nystrom Farm.
In addition to selling over 16 varieties of apples, they also make their own cold-pressed cider, sell caramel apples, and hold tastings featuring apple dishes, like their delicious apple pie.
"It takes a real village," Kia noted, peering through the rows of apple trees. "I have a lot of family in the area, as does my husband, and they all help us. We always say we couldn't do this without our family.
Kia grew up on a nearby farm, just down the road from Aaron. They have been together for more than 16 years – through high school, college and family loss and what Kia calls their "pivotal year" in 2014.
She was pregnant with her second child at the time, with a one-year-old at home. Both Kia and Aaron worked full-time jobs off the farm – which they continue to do today – and were trying to decide how much they should invest in the farm. Within six months, they decided to demolish and rebuild the farm, build a barn and start feeding the cattle.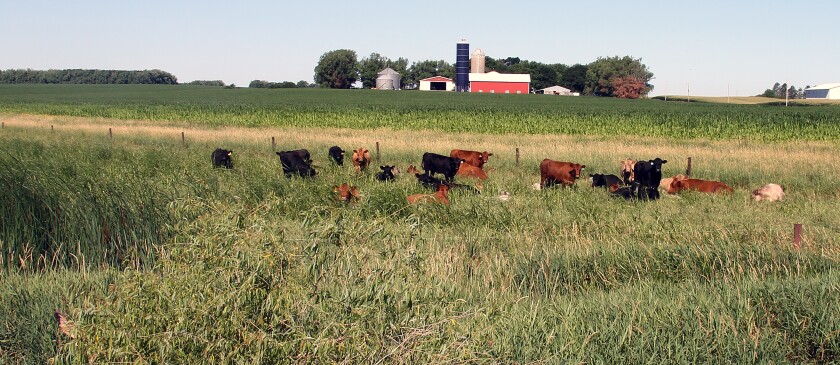 The result today is 'Orchard Beef', a mix of Charolais and Angus cattle that are raised and fed at the Nystrom farm before being sent to a beef processing plant. From there, most enter the commercial food chain, but a small amount returns to be sold under Nystrom Orchard's own brand.
"A lot of thought went into this and the planning and it was stressful," Kia said of that time when she and Aaron were still trying to figure out their next steps. "But I look back on it today and it's really humbling to see how far we've been able to go, and just to use God's gift and our own ability to…use our hands and use our minds and meet the needs of the world."
Although the farm keeps them busy, Aaron still works as a large animal veterinarian and Kia remains involved in the dairy industry through her work.
"I think it allowed us to see what makes a successful operation," Kia said of her and Aaron's work off the farm, which gave them insight into other areas of agriculture. "Also, (we see) what some people do that is going to be their demise, and see their mistakes and try to avoid them. It's not perfect, but I think it improved us a lot.
It's a balancing act, Kia explained, that she and Aaron had to tackle when they were quite young, after Aaron's father died. While their other friends are just beginning to return and take over the family farms, Aaron and Kia have been farming for 10 years now, building something of their own.
"It's tough and there's good and bad," Kia said, "and I know we made the right decision."
Back near the house, Kia pointed to a patch of pumpkin seedlings, which her son, Kip, planted. It's important to her and Aaron, she explained, to help their kids find their own passion projects, something they can "own."
For Kip, these are pumpkins, which will be harvested and sold in the fall. Eight-year-old Cort runs her own cotton candy business and helps out in the kitchen, learning recipes and creating artful presentations. While their youngest, Thea, brings a "dance to the party", Kia is certain she'll find her own thing as she gets older.
Children learn about what it takes to grow a crop or the costs of running a small business, and how much labor it takes to make something.
"But also," Kia said, "(they get) the reward of spending time doing something you love and seeing the results of it."
It's an appropriate sentiment for Nystrom Orchard, as Kia talks about its future plans – a commercial kitchen for the hangar they rebuilt in 2019, to accommodate more tastings. Kia hopes the project will be finished by next fall and after that, who knows?
The Nystroms will continue to plan their years around goals and family time, and enjoy summer nights on the porch of the home they built.
"It's a labor of love," Kia said, smiling firmly, "and we love it."